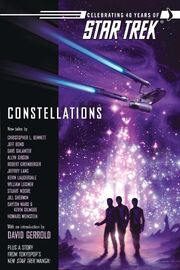 Kevin Lauderdale was born and raised in Los Angeles, California. He holds bachelor's and master's degrees in English Literature (from UCLA and San Francisco State University, respectively) as well as a master's in Library and Information Science (also from UCLA). He has published essays and articles in The Dictionary of American Biography, the Los Angeles Times, Animato!, and Mcsweeneys.net; as well as poetry in Andre Codrescu's The Exquisite Corpse. He lives in northern Virginia with his wife, two daughters, and two dogs.
Bibliography
Edit
External Links
Edit
He was the writer of "The Kevindex", a book review website, from 1996-2001. That site is now down, and only one piece of content is still available: An Annotated Guide to The Two Georges (an alternate history novel by Richard Dreyfuss and Harry Turtledove).
Ad blocker interference detected!
Wikia is a free-to-use site that makes money from advertising. We have a modified experience for viewers using ad blockers

Wikia is not accessible if you've made further modifications. Remove the custom ad blocker rule(s) and the page will load as expected.