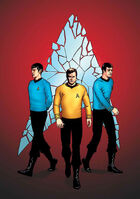 Kevin Maguire is a comic book artist, during in career he has produced Star Trek work for both DC Comics and IDW Publishing. His earliest Star Trek credits were in 1987, for illustrations in DC's Who's Who in Star Trek, Issue 1 and Issue 2, where he provided images of Elasians, Carol Marcus and Saavik. His next Star Trek work did not come until March 2009, when he produced a cover for IDW's "Mission's End, Issue 1"
Appendices
Edit
External links
Edit
Ad blocker interference detected!
Wikia is a free-to-use site that makes money from advertising. We have a modified experience for viewers using ad blockers

Wikia is not accessible if you've made further modifications. Remove the custom ad blocker rule(s) and the page will load as expected.