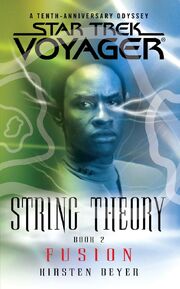 Kirsten Beyer is a writer of stories set in the Star Trek universe, though she has also written other media tie-in work. She lives in Los Angeles, California. Beyer has been the regular writer for Star Trek: Voyager fiction paperbacks set after the television series, beginning with Full Circle, following the departure of Christie Golden after Spirit Walk: Enemy of My Enemy.
Beyer is a writer on Star Trek: Discovery and also has the title of "Tie-in Media Coordinator" which has not existed for previous Star Trek television series.[1]
Star Trek Bibliography
Edit
External links
Edit
Ad blocker interference detected!
Wikia is a free-to-use site that makes money from advertising. We have a modified experience for viewers using ad blockers

Wikia is not accessible if you've made further modifications. Remove the custom ad blocker rule(s) and the page will load as expected.