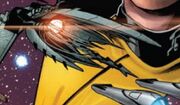 In the Kelvin timeline, the Klingon bird-of-prey was a 23rd century military starship in use by the Klingon Empire around beginning of the 2260s decade.
History and specifications
Edit
These birds of prey were similar to those in use in the prime reality, such as the IKS Muqtovor commanded by General Chang. (TOS - The Spectrum War comics: "Issue 1", "Issue 2")
The alternate reality bird-of-prey had a notable design variant, a group of ships using a standard bird-of-prey hull adapted with the advanced future technology of the enhanced Narada. (TOS - The Khitomer Conflict comic: "Part 2")
Appendices
Edit
Connections
Edit
Ad blocker interference detected!
Wikia is a free-to-use site that makes money from advertising. We have a modified experience for viewers using ad blockers

Wikia is not accessible if you've made further modifications. Remove the custom ad blocker rule(s) and the page will load as expected.