Ad blocker interference detected!
Wikia is a free-to-use site that makes money from advertising. We have a modified experience for viewers using ad blockers

Wikia is not accessible if you've made further modifications. Remove the custom ad blocker rule(s) and the page will load as expected.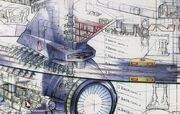 Landing gear, also known as landing struts or landing legs, was a component of an air or spacecraft that facilitated a controlled contact with a planetary surface, space station docking bay, or other firm surface.
When used by larger vehicles such as starships, the physical landing gear was sometimes supplemented with antigravs, thrusters, structural integrity fields and inertial dampeners. (VOY episode: "The 37's"; DS9 reference: Star Trek: Deep Space Nine Technical Manual)
Starfleet use
Edit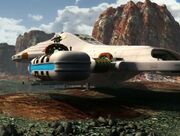 Among Federation Starfleet vehicles with landing gear were:
Klingon Defense Force use
Edit
The Klingon Defense Force B'rel-class bird of prey had two sets of landing gear, one on either side where the wings joined the main hull. (TOS movies: The Search for Spock, The Voyage Home)
External links
Edit