Ad blocker interference detected!
Wikia is a free-to-use site that makes money from advertising. We have a modified experience for viewers using ad blockers

Wikia is not accessible if you've made further modifications. Remove the custom ad blocker rule(s) and the page will load as expected.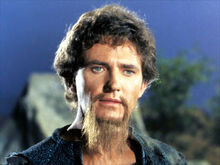 Lazarus was the name of a humanoid scientist from an unnamed world. He had counterparts in at least two universes - those of positive matter and antimatter. If both versions of Lazarus were ever to meet face to face, outside of a magnetic corridor that links both universes, all matter in every universe would completely disappear.
Some time before the USS Enterprise first meet Lazarus one of his counterparts, it is unclear which one, positive or antimatter, learned of the existence of the other one and became obsessed with destroying his counterpart. The other Lazarus sacrificed his life to stop him, trapping both Lazaruses in the magnetic corridor, apparently for eternity. (TOS episode: "The Alternative Factor")
However, the two Lazaruses' torment would not last forever. Benjamin Sisko, who had joined the Prophets, used his abilities to free both Lazaruses from their confinement and return them to their home universes. Each Lazarus was deposited onto his universe's version of Bajor, where both were able to lead normal lives. (TOS - Strange New Worlds 10 short story: "Reborn")
External links
Edit