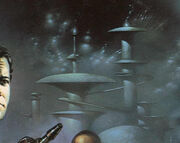 Levaeri V is a planet located in Romulan-controlled space, near their side of the Romulan Neutral Zone border. Levaeri V is the fifth planet in the star system of Levaeri.
The military forces of the Romulan Star Empire maintained a secret scientific research space station in orbit of Levaeri V. In the 2270s, the planet's station was served as a prison (and torture laboratory) for the crew of USS Intrepid II, captured through an experimental Sunseed ion storm creation. In reprisal for the assault on a Federation starship, the planet's orbital security was breached by troops launched from USS Enterprise and the rogue Romulan bird-of-prey ChR Bloodwing, destroying the Romulan presence at this world. The battle would be remembered for years as an example to the Romulans of the consequences of violating the Zone and assaulting Federation interests. (TOS novels: My Enemy, My Ally, The Romulan Way)
Appendices
Edit
Connections
Edit
Ad blocker interference detected!
Wikia is a free-to-use site that makes money from advertising. We have a modified experience for viewers using ad blockers

Wikia is not accessible if you've made further modifications. Remove the custom ad blocker rule(s) and the page will load as expected.