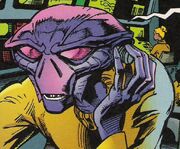 The Lirin were a humanoid species of pyrotechnics, able to mentally generate fires, native to the planet Liria.
The Lirin are considered to be the closest thing to a perfect society the Federation has so far encountered (as of the 2250s). They have a very finite population, delicately balanced with each member fulfilling a set role. When first contact was made with the species an additional member of the race was created, Nano, doomed to be an outsider with no place within the Lirin Unity, he fulfilled his role as emissary to the Federation by serving in Starfleet. (EV comics: "Flesh of My Flesh", "One of a Kind")
Lirin feature exoskeletons composed of chitin capable of withstanding quite severe blows. (EV comic: "Our Dearest Blood")
Ad blocker interference detected!
Wikia is a free-to-use site that makes money from advertising. We have a modified experience for viewers using ad blockers

Wikia is not accessible if you've made further modifications. Remove the custom ad blocker rule(s) and the page will load as expected.