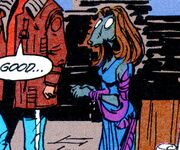 Lylla was a native of the planet Beta Epsilon VI.
Biography
Edit
Lylla was the daughter of Lorac. She then became the wife of marooned Starfleet captain turned "god", Phillip Hodges, after he rescued her from the planet's predators. (TOS comic: "Mortal Gods")
Ad blocker interference detected!
Wikia is a free-to-use site that makes money from advertising. We have a modified experience for viewers using ad blockers

Wikia is not accessible if you've made further modifications. Remove the custom ad blocker rule(s) and the page will load as expected.