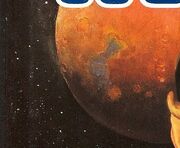 Lyr T'aya was a region on the planet Vulcan.
History and specifics
Edit
Lyr T'aya was the home of the Lyr Zor clan to which the Vulcan Sarda belonged to and was situated to the south of the planet where it was located in the Vuldi Gorge. The closest city of the area was Jia'anKahr. (TOS - Fortunes of War novel: Battlestations!)
Appendices
Edit
Connections
Edit
References
Edit
Ad blocker interference detected!
Wikia is a free-to-use site that makes money from advertising. We have a modified experience for viewers using ad blockers

Wikia is not accessible if you've made further modifications. Remove the custom ad blocker rule(s) and the page will load as expected.