Ad blocker interference detected!
Wikia is a free-to-use site that makes money from advertising. We have a modified experience for viewers using ad blockers

Wikia is not accessible if you've made further modifications. Remove the custom ad blocker rule(s) and the page will load as expected.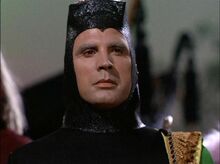 Maab was a member of the Capellan tribes. He killed his leader, Akaar, and assumed the role of teer of the Ten Tribes; Maab was in turn killed distracting the Klingon Kras, who had threatened to kill him. (TOS episode: "Friday's Child")
Maab
article at
Memory Alpha
, the wiki for canon
Star Trek
.