Maddy Calloway
Talk

0
43,072pages on
this wiki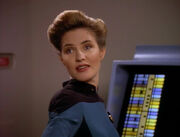 Ensign Maddy Calloway was a female medical technician who served aboard the USS Enterprise (NCC-1701-D).
In 2368, she met Daniel Kwan, a fellow Enterprise crewmember. By 2370, the two were romantically involved. Kwan joked that Calloway "wouldn't be able to get away with anything" around his mother, who was a telepathic Napean. The last time Calloway saw Kwan, they were planning an upcoming shore leave together. Two nights later, Kwan committed suicide, influenced by an empathic vision he experienced on the Enterprise. Calloway urged Counselor Deanna Troi to find out what happened.
Ensign Calloway was portrayed by Johanna McCloy.
Alternate versions
Edit
In an empathic vision experienced by Deanna Troi, Calloway became romantically involved with Worf. Troi, jealous of Calloway, tried to kill her, but accidentally shot Worf instead. (TNG episode: "Eye of the Beholder")
Connections
Edit