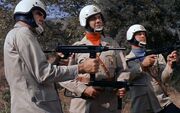 The Magna Roman submachine gun was the primary hand-held submachine gun projectile weapon in use on the planet Magna Roma in the later 2260s decade. Because of the parallel evolution of that world as a near-duplicate of Earth, the Romans of that world used weapons that were very similar to machine guns of Human design. (TOS episode: "Bread and Circuses")
Because of divergences in the parallel evolution, the actual firearms and industrial materials processes of Earth's 20th century probably came about in a slightly different manner on the Roman world. The weapons they used were a parallel version of the Madsen M50 machine gun.
Connections
Edit
Ad blocker interference detected!
Wikia is a free-to-use site that makes money from advertising. We have a modified experience for viewers using ad blockers

Wikia is not accessible if you've made further modifications. Remove the custom ad blocker rule(s) and the page will load as expected.