Featured Article
Gods of Night is the first novel in the crossover trilogy Star Trek: Destiny. The book features the crews of the USS Enterprise-E from Star Trek: The Next Generation, the USS Titan of Star Trek: Titan, and introduces the USS Aventine, commanded by Ezri Dax of Star Trek: Deep Space Nine, as they seek to find a way to stop the Borg Invasion begun in epilogue of the preceding TNG novel Greater Than the Sum. The book also features the crew of the 22nd century starship Columbia from Star Trek: Enterprise, who encounter the Caeliar; a hyper-advanced alien race who play a major role in the trilogy.
Approximately a week after visiting the Gaia system, the USS Defiant finds the wreck of the Columbia (NX-02), which had been missing for over 200 years, on a planet in the Gamma Quadrant. The crew in the wreck feel ill at ease, with Kira Nerys suggesting a borhyas inhabits the ship. Efforts to salvage the Columbia are interrupted by the arrival of two Jem'Hadar attack vessels, and as the Dominion War breaks out shortly after, the operation is postponed indefinitely.
<...more>
---
Latest Releases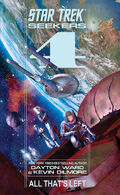 By Dayton Ward & Kevin Dilmore

Initially charted by Starfleet probes dispatched to sur­vey the Taurus Reach, the planet Cantrel V now plays host to a budding Federation colony, as well as a com­bined civilian/Starfleet exploration team. Ancient ruins of an unknown civilization scattered around the planet have raised the curiosity of archaeologists, anthropolo­gists, historians, and other interested members of the Federation scientific community. Together, they are attempting to shed light on the beings that once called this world home.
After a large, unidentified vessel arrives in orbit and launches a seemingly unprovoked orbital bombardment, the U.S.S. Endeavour responds to the colony's distress call. As they attempt to render assistance and investi­gate the mysterious ship, Captain Atish Khatami and her crew begin to unlock the astonishing secrets the planet has harbored for centuries. Does the survival of a newly-discovered yet endangered alien race pose a threat not only to Cantrel V, but to other inhabited worlds throughout the Taurus Reach and beyond?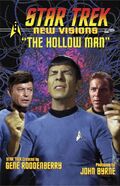 By John Byrne

A mysterious message draws Mr. Spock on a solo mission to a distant part of the Federation, where an old friend awaits, as well as a menace with the potential to threaten the entire galaxy.
---