Featured Article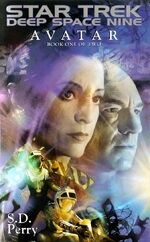 RETURN TO THE EDGE OF THE FINAL FRONTIER.
In the aftermath of a war that brought the Alpha Quadrant to the brink of destruction, Starbase Deep Space 9™ -- the galaxy's nexus of scientific and military intrigue -- is once more the flashpoint of impending Armageddon as a surprise attack cripples the station, killing hundreds and threatening the fragile new peace.
Colonel Kira Nerys and the survivors -- together with several controversial new officers -- are all who stand against the outbreak of a new war and a terrible doom tied to the unborn child of Captain Benjamin Sisko.
Elsewhere, Captain Jean-Luc Picard and the crew of the Starship Enterprise™ make a startling discovery...one that will affect the destiny of an entire civilization and forever change the lives of those aboard Deep Space 9.
<...more>
---
Latest Releases
By David Mack

SCIENCE GONE MAD... Bizarre sensor readings lead the Starfleet scout ship USS Sagittarius to an alien world where efforts to harness a dangerous and unstable technology have thrown the laws of probability out of balance. Now, events that might have occurred only one time in a trillion are hap­pening constantly—to deadly and dazzling effect.
A PLANET IN PERIL... As disasters and miracles multiply globally at an ever-increasing rate, it's up to Captain Clark Terrell and his crew to shut down the experiment-gone-wrong before its storm of chaos causes the planet's destruction. But the odds against their success—and their survival—might be too great to overcome.
---