Home
Talk

111
45,307pages on
this wiki
Featured Article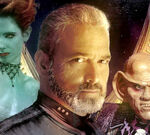 Commander Elias A. Vaughn was a Starfleet officer who in the 2370s was over one-hundred years old and an officer with eighty years experience in Starfleet Intelligence, Special Operations and Tactical.
Despite his relativity low rank (retained in order to maintain a low profile), Vaughn was on a first name basis with most of the Admiralty and had a higher security clearance than some.
Vaughn was a critical player in several crucial events in Starfleet history. Among them, the Tomed Incident, the Betreka Nebula Incident, the disaster at Arvada III, the civil war on Beta VI, and the liberation of Betazed from the Dominion.
Then, after a chance encounter with the Bajoran Orb of Memory, Vaughn decided to pursue his lost dream of being an explorer. After taking the vacant First Officers position at Federation starbase Deep Space 9 at age 101, Elias Vaughn commanded the USS Defiant on a three-month mission of exploration in the Gamma Quadrant and continued to contribute to Starfleet.
<...more>
---
Latest Releases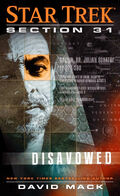 By David Mack

Amoral, shrouded in secrecy, and answerable to no one, Section 31 is the mysterious covert operations division of Starfleet, a rogue shadow group committed to safeguarding the Federation at any cost. Doctor Julian Bashir sacrificed his career for a chance to infiltrate Section 31 and destroy it from within. Now it's asking him to help it stop the Breen from stealing a dangerous new technology from the Mirror Universe–one that could give the Breen control over the galaxy. It's a mission Bashir can't refuse—but is it really the shot he's been waiting for? Or is it a trap from which even his genetically enhanced intellect can't escape?
By Doug Drexler, Margaret Clark and Michael Okuda

They dared to risk it all in a skiff of reeds or leather, on a ship of wood or steel, knowing the only thing between them and certain death was their ship. To explore, to seek out what lay beyond the close and comfortable, every explorer had to embrace danger. And as they did so, what arose was a mystical bond, a passion for the ships that carried them. These vessels have become the icons of mankind's desire to rise above the everyday, to seek out and make the unknown known. And these ships that travel the stellar seas have stirred the same passions as the ones that floated in the oceans.
While every captain has wished that their starship could be outfitted in the same manner as the sailing ship H.M.S. Beagle-without weapons-that proved untenable. From the start, Starfleet realized that each vessel, due to the limited range of the early warp engines, must be able to stand alone against any attack. Thus arose the idea, taken from the days of wooden sailing ships, that every Starfleet vessel must stand as a ship of the line. Through the actions of their captains and crews, countless starships have taken on that role. Here we remember some of those ships and their heroic crews.
In celebration of one of science fiction's most beloved franchises, this updated edition of the acclaimed Ships of the Line hardcover collection now includes more than 75 additional images brought together for the first time in book format-spectacular renderings featured in the highly successful Star Trek: Ships of the Line calendar series. With text by Star Trek's own Michael Okuda, the story of each of these valiant starships now comes to life.
---