Featured Article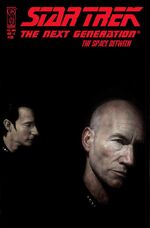 Captain's Pleasure is a Star Trek: The Next Generation comic, the second issue of IDW Publishing's The Space Between miniseries. The comic was written by David Tischman with art by Casey Maloney, and was initially released in February 2007, with a reprint in the omnibus of the series in September of the same year. The story, set in 2368, features Captain Jean-Luc Picard taking shore leave to visit an old friend, Dr. Marjorie Devarona, at an archaeological site on Rajatha Prime; only to find himself trapped on the planet trying not become the next victim in a series of murders.
The expedition team busy at work on Rajatha Prime are roused by the calls of the Human, Dr. Hoyle who, whilst exploring a hole he suspected had been created by a meteor found the wreckage of on old shuttlepod, which Picard, examining corpses near by suspects had crashed some two centuries ago. As the team examine the wreckage Gest, a Bolian member of the team discovers a stash of harmonic diamonds. Whilst Picard ponders the identity of the corpses the rest of the team divide up the treasure, Gest quoting the old Earth phrase "finders-keepers", losing light they return to camp.
<...more>
---
Latest Releases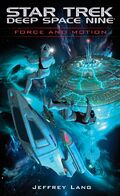 By Jeffrey Lang

In 2367, Captain Benjamin Maxwell of the starship Phoenix ordered the destruction of a Cardassian warship and a supply vessel, killing more than six hundred crew members. Maxwell believed that the Cardassians were arming for a new attack on the Federation, and though history eventually proved he was probably correct, the Federation had no choice but to court martial and incarcerate him.
Almost twenty years have passed, and now Maxwell is a free man, working as a maintenance engineer on the private science station Robert Hooke, home to crackpots, fringe researchers, and, possibly, something much darker and deadlier. Maxwell's former crewmate, Chief Miles O'Brien, and O'Brien's colleague, Lieutenant Commander Nog, have come for a visit. Unfortunately, history has proven that whenever O'Brien and Nog leave Deep Space 9 together, unpredictable forces are set into motion...
---