Home
Talk

111
45,080pages on
this wiki
Featured Article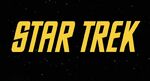 Star Trek: The Original Series is a revised title for the series Star Trek, which originally aired as a TV series on NBC from 1966 to 1969. The series began the Star Trek franchise and has gone on to have stories in multiple formats; novels, comics, short stories and video games.
The sub-title The Original Series is used to distinguish it from its sequel series, and from the larger Star Trek franchise. The sub-title is used on some products, such as DVDs, however novels and comics continue to title TOS publications simply as Star Trek.
Star Trek the TV series, and many of the subsequent stories, chronicled the voyages of the starship Enterprise, under the command of Captain James T. Kirk on its five-year mission of exploration through the Alpha and Beta Quadrants in the late 2260s. The series later spawned a movie-series, which, along with fiction in other formats, continued the adventures of Kirk and his crew through to the end of the 23rd century and onto a new ship; the Enterprise-A.
<...more>
---
Latest Releases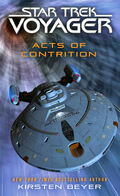 Admiral Kathryn Janeway has now taken command of the Full Circle Fleet. Her mission: return to the Delta Quadrant and open diplomatic relations with the Confederacy of the Worlds of the First Quadrant, a civilization whose power rivals that of the Federation. Captain Chakotay knows that his choices could derail the potential alliance. While grateful to the Confederacy Interstellar Fleet of rescuing the Federation starships from an alien armada, Voyager's captain cannot forget the horrors that upon which the Confederacy was founded.
More troubling, it appears that several of Voyager's old adversaries have formed a separate and unlikely pact that is determined to bring down the Confederacy at all costs. Sins of the past haunt the crew members of the Full Circle Fleet as they attempt to chart a course for the future. Will they learn much too late that some sins can never be forgiven... or forgotten?
By Rudy Josephs

The wedding of Captain Jean-Luc Picard to Doctor Beverly Crusher was a small, private affair overseen by the mayor of La Barre, France, and witnessed by the groom's sister-in-law and the mayor's wife. At least that's what the happy couple always told their friends. On the anniversary of that blessed day, however, Worf and Geordi La Forge manage to coax the real story out of the pair, to discover a tale of mythical treasure and a lost civilization in the Delta Quadrant. It all begins when the omnipotent being Q crashes the festivities, declaring himself best man and bringing along an unwilling guest as a surprise for the groom…
---