Home
Talk

111
46,273pages on
this wiki
Featured Article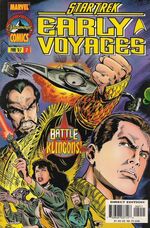 The Fires of Pharos is a Star Trek: The Original Series comic published by Marvel-Paramount Comics in 1997, it is the second issue in the Star Trek: Early Voyages series, set during Christopher Pike's captaincy of the USS Enterprise. The story sees the Enterprise arrive in the Marrat system (after its mission was delayed in the previous issue); there the Enterprise battles with Marrat brigand pirates and Klingons to secure the dangerous Marrat Nebula.
In the Marrat Nebula… Lieutenant Tyler moves the USS Enterprise through evasive maneuver sigma-delta-one before turning the starship about to finish driving off the remainder of hostile fleet that had been attacking Starbase 13. With the starbase's docking array damaged and communications out, a team lead by Captain Pike beams over the access the situation.
The team is greeted by Commodore Hal Wyeth, as Yeoman Cusack helps the medical personal set up a triage center to help the starbase's wounded the Commodore fills Pike and Spock in on the local situation; The station, originally built to help police the dangerous region, has itself come under siege in a response by local pirateers to another Starfleet plan to bring order to the region in Project Pharos, the building of a huge "lighthouse" on a nearby planet. What's more, while they were drilling the foundations for the lighthouse, the engineering teams found vast amounts of extremely pure dilithium, and the Commodore fears this valuable find has been leaked when, two hours earlier, contact was lost with the engineering teams on the planet.
<...more>
---
Latest Releases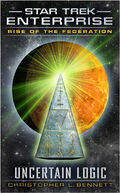 Years ago, Jonathan Archer and T'Pol helped unearth the true writings of Vulcan's great philosopher Surak, bringing forth a new era of peaceful reform on Vulcan. But when their discovery is seemingly proven to be a fraud, the scandal threatens to undo a decade of progress and return power to the old, warlike regime. Admiral Archer, Captain T'Pol, and the crew of the USS Endeavour investigate with help from their Vulcan allies, but none of them suspect the identity of the real mastermind behind the conspiracy to reconquer Vulcan–or the price they will have to pay to discover the truth.
Meanwhile, when a long-forgotten technological threat re-emerges beyond the Federation's borders, Captain Malcolm Reed of the USS Pioneer attempts to track down its origins with help from his old friend "Trip" Tucker. But they discover that other civilizations are eager to exploit this dangerous power for their own benefit, even if the Federation must pay the price!
---