Home
Talk

111
46,090pages on
this wiki
Featured Article
Light of the Day is a Star Trek: The Next Generation comic, the fourth issue of IDW Publishing's The Space Between miniseries. The comic was written by David Tischman with art by Casey Maloney, and was initially released in April 2007, with a reprint in the omnibus of the series in September of the same year. The story, set in 2369, sees a shuttle from the USS Enterprise-D crash-land on the planet Riat, where the crew find themselves fighting for survival when they enter a Dracon monastery. Meanwhile on the Enterprise, the crew work with a political criminal, Kommandant Ghud, to try and find the shuttle.
In the shuttlecraft Goddard, Worf, Ro Laren and Geordi La Forge look forward to returning to the Enterprise after their recent briefing from Starfleet when a massive wave of solar flare activity forces them to drop out of warp. The shuttle careens out of control and crashes into the snowy mountains of a planet.
The shuttle severely damaged the group make their way to the shelter of a near by building. Inside they find out they are in a Dracon monastery on the planet Riat, but no monks come to greet them. Ro has an uneasy feeling about the place, and rightly so, nearby someone watches them through a peep hole.
<...more>
---
Latest Releases
When renegade Federation starships begin wreaking destruction across the Alpha Quadrant, Captain Jean-Luc Picard and the crew of the USS Enterprise are shocked to discover that the mastermind behind this sudden threat is none other than Picard's protégé and friend: Admiral William T. Riker. The newly minted admiral is on board the USS Aventine as part of a special assignment, even as the mystery deepens behind his involvement in the growing crisis. But the Aventine is helmed by Captain Ezri Dax—someone who is no stranger to breaking Starfleet regulations—and her starship is by far the faster vessel…and Riker cannot yield even to his former mentor. It's a battle of tactical geniuses and a race against time as Picard struggles to find answers before the quadrant's great powers violently retaliate against the Federation…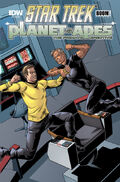 By Scott & David Tipton and Rachael Stott
---