Featured Article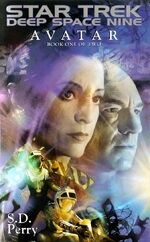 RETURN TO THE EDGE OF THE FINAL FRONTIER.
In the aftermath of a war that brought the Alpha Quadrant to the brink of destruction, Starbase Deep Space 9™ -- the galaxy's nexus of scientific and military intrigue -- is once more the flashpoint of impending Armageddon as a surprise attack cripples the station, killing hundreds and threatening the fragile new peace.
Colonel Kira Nerys and the survivors -- together with several controversial new officers -- are all who stand against the outbreak of a new war and a terrible doom tied to the unborn child of Captain Benjamin Sisko.
Elsewhere, Captain Jean-Luc Picard and the crew of the Starship Enterprise™ make a startling discovery...one that will affect the destiny of an entire civilization and forever change the lives of those aboard Deep Space 9.
<...more>
---
Latest Releases
By David Mack

Just in time for the milestone 50th Anniversary of Star Trek: The Original Series, an epic new trilogy that stretches from the earliest voyages of the Starship Enterprise to Captain Kirk's historic five-year mission — and from one universe to another!
A debt of honor: One brave woman ventures alone into a parallel universe to save her old shipmates, exiled there decades earlier by a mysterious device called the Transfer Key. She soon learns the alternate universe harbors not just an alien invasion force, but a secret that underpins its very existence.
A mission of peace: A long-awaited Klingon-Federation peace conference convenes, led by Ambassador Sarek of Vulcan and Councillor Gorkon of Qo'noS. But both sides have enemies who would prefer the two great powers remain at war—and who will do anything to make certain hate wins the day.
By various artists

Celebrate 50 years of popular science-fiction TV series Star Trek with this new Official 2017 Star Trek Calendar. Featuring 50 illustrations and paintings from 50 famous artists over 12 months (including an impressive centre-spread), this stunning calendar would make the perfect gift for any Star Trek aficionado.
By various artists

STAR TREK™ 50 artists. 50 years 2017 Poster Calendar showcases the work of artists from around the globe who created original pieces to celebrate Star Trek's 50th anniversary. With easily detached perforations above and beneath the image, each calendar page becomes an 11x14-inch easy-to-frame poster perfect for display in a standard gallery frame.
Star Trek™: 50 Artists. 50 Years 2017 Poster Calendar features work by Leonard Nimoy, Tom Whalen, Nick Walker, Johnson Tsang, Derek Charm, Susan Beatrice, and others.
---