Featured Article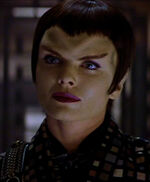 Donatra (born 2327) was a female Romulan in the 24th century who served in the Imperial Fleet of the Romulan Star Empire. By 2379 she had ascended to Commander of the Third Fleet, and was captain of the IRW Valdore. In the wake of Shinzon's coup of the Empire Donatra rose in political prominence, and in 2380 declared herself the first Empress of the newly splintered Imperial Romulan State, which she ruled for five years until eventually reuniting with the Romulan Star Empire.
By 2367 Donatra was serving as Centurion and transferred to the IRW T'sarok, under command of Suran. He counselled the eager young officer that she should slow down, for that would be no shortage of enemies for her to destroy. Donatra rose to be Suran's first officer, and while in that position first encountered Admiral Braeg on a mission in the D'nossos system. Suran was leading a task force against the Tellati, and during in the battle they came across a warbird whose command staff had been killed; Donatra and two of her subordinates beamed aboard and brought the warbird back into the battle. Braeg immediately offered her command of one of his warbirds, but Donatra turned him down, too loyal to Suran to transfer.
<...more>
---
Latest Releases
By Greg Cox

An epic new trilogy begins—a tie-in for the milestone fiftieth anniversary of Star Trek: The Original Series—that stretches from the earliest voyages of the Starship Enterprise to Captain Kirk's historic five-year mission…and from one universe to another!
Hidden aboard the U.S.S. Enterprise is a secret that has been passed from captain to captain, from Robert April to Christopher Pike to James T. Kirk. Now the return of the enigmatic woman once known as Number One has brought that secret to light, and Kirk and his crew must risk everything to finish a mission that began with April so many years ago…
Nearly two decades earlier, April and his crew first visited the planet Usilde, where they found both tragedy and a thorny moral dilemma. Today, the legacy of that fateful occasion will compel Kirk to embark on a risky voyage back to that forbidden world—which is now deep in territory claimed by the Klingon Empire!
By Terry J. Erdmann and Paula M. Block

On the space station Deep Space 9, Quark's Public House, Café, Gaming Emporium, Holosuite Arcade, and Ferengi Embassy can't legitimately be called an embassy until the Grand Nagus – namely, Quark's brother Rom – dedicates it as such. Not that Quark really cares about Ferengi protocol, but a well-publicized dedication ceremony will naturally draw people to the bar. Everybody loves a good open house – free appetizers, half-price drinks, door prizes, etc. – all of which Quark can write off as Embassy expenses. It's a win-win situation, with him on both sides of the win. There's even a plan to display the original scroll of the Ferengi Rules of Acquisition – which no one has seen for decades given that it's been held in protective storage – and charge patrons by the minute to look at it up close. Nothing, of course, could possibly go wrong with this big plan. Absolutely nothing at all...
By various artists

In celebration of Star Trek™'s landmark 50th anniversary, the 2017 edition of this fan-favorite calendar is dedicated to showcasing spectacular images of the most famous vessel in the Federation: the U.S.S. Enterprise™ (NCC-1701), in a variety of iconic scenes and settings.
By Dayton Ward and Peter Markowski & Livio Ramondelli

Plan your next trip to the planet Vulcan with Hidden Universe: Star Trek: A Travel Guide to Vulcan! Find restaurants that serve the best fried sandworms and Vulcan port. Take a trip to the Fire Plains or experience spring break at the Voroth Sea. Learn all about the native Vulcan people and their unusual customs. Discover how to correctly perform the traditional Vulcan salutation (you really don't want to get this wrong). Learn key Vulcan phrases such as Nam-tor puyan-tvi-shal wilat: "Where is your restroom?" Find out what to do if you suddenly find yourself host to a katra—a Vulcan's living spirit—at an inconvenient moment. All this and more can be found within the pages of this essential travel guide to one of the most popular—and logical—destinations in the known universe.
Hidden Universe: Star Trek: A Travel Guide to Vulcan draws on 50 years of Star Trek TV shows, films, and novels to present a comprehensive guide to Spock's iconic home world. Modeled after real-world travel guides, the book will explore every significant region on Vulcan with fascinating historical, geographical, and cultural insights that bring the planet to life like never before. Also featuring a dynamic mixture of classic Star Trek imagery and original illustrations created exclusively for the book, Hidden Universe: Star Trek: A Travel Guide to Vulcan is the perfect way to celebrate 50 years of Star Trek and will thrill pop culture fans and hardcore Star Trek fans alike.
---