Featured Article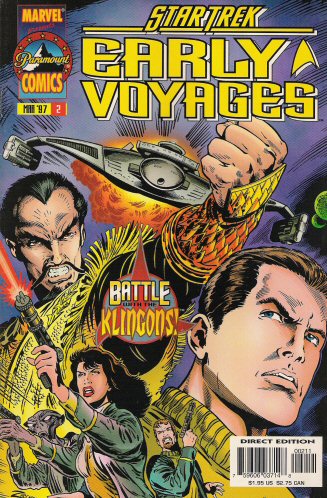 The Fires of Pharos is a Star Trek: The Original Series comic published by Marvel-Paramount Comics in 1997, it is the second issue in the Star Trek: Early Voyages series, set during Christopher Pike's captaincy of the USS Enterprise. The story sees the Enterprise arrive in the Marrat system (after its mission was delayed in the previous issue); there the Enterprise battles with Marrat brigand pirates and Klingons to secure the dangerous Marrat Nebula.
In the Marrat Nebula… Lieutenant Tyler moves the USS Enterprise through evasive maneuver sigma-delta-one before turning the starship about to finish driving off the remainder of hostile fleet that had been attacking Starbase 13. With the starbase's docking array damaged and communications out, a team lead by Captain Pike beams over the access the situation.
The team is greeted by Commodore Hal Wyeth, as Yeoman Cusack helps the medical personal set up a triage center to help the starbase's wounded the Commodore fills Pike and Spock in on the local situation; The station, originally built to help police the dangerous region, has itself come under siege in a response by local pirateers to another Starfleet plan to bring order to the region in Project Pharos, the building of a huge "lighthouse" on a nearby planet. What's more, while they were drilling the foundations for the lighthouse, the engineering teams found vast amounts of extremely pure dilithium, and the Commodore fears this valuable find has been leaked when, two hours earlier, contact was lost with the engineering teams on the planet.
<...more>
---
Latest Releases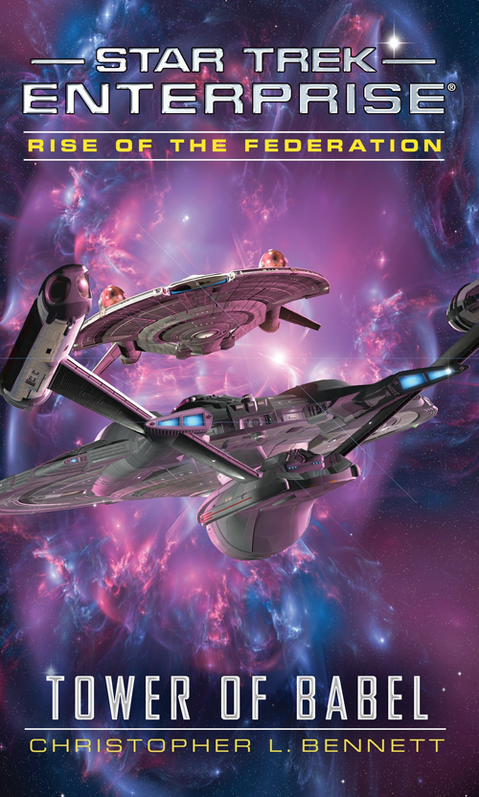 The United Federation of Planets has weathered its first major crisis, but its growing pains are just beginning. Admiral Jonathan Archer hopes to bring the diverse inhabitants of the powerful and prosperous Rigel system into the Federation, jump-starting the young nation's growth and stabilizing a key sector of space. Archer and the Federation's top diplomats journey to the planetoid Babel to debate Rigel's admission…but a looming presidential race heats up the idealogical divide within the young nation, jeopardizing the talks and threatening to undo the fragile unity Archer has worked so hard to preserve.
Meanwhile, the sinister Orion Syndicate recruits new allies of its own, seeking to beat the Federation at its own game. Determined to keep Rigel out of the union, they help a hostile Rigelian faction capture sensitive state secrets along with Starfleet hostages, including a young officer with a vital destiny. Captain Malcolm Reed, Captain T'Pol, and their courageous crews must now brave the wonders and dangers of Rigel's many worlds to track down the captives before the system is plunged into all-out war.
---