Home
Talk

108
41,951pages on
this wiki
Featured Article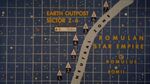 The Romulan Neutral Zone, also known to the Romulans as the Outmarches, is an area of space between the borders of the United Federation of Planets and the Romulan Star Empire and was established in 2161 at the conclusion of the Earth-Romulan War by the Treaty of Gamma Trianguli.
The treaty called for a 1 light-year area between both powers, and neither side would be allowed to cross into the zone without prior agreement from the other side, or war would be declared. Any vessel found to have crossed into the zone would be impounded and its crew sent home after they were processed. To monitor the zone, both Starfleet and the Romulans established a number of outposts along the border which would monitor activity in the zone.
The creation of a Neutral Zone that separated the Romulan state and that of the Coalition of Planets was first proposed by the Vulcan and Andorian delegations in the middle part of the 22nd century. This was due to rising hostilities between both the Romulan and Klingon Empire's due to a number of raids on the space of the newly formed Coalition.
<...more>
---
Latest Releases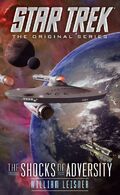 ---