Featured Article
Strategy is a Star Trek: The Next Generation comic, the third issue of IDW Publishing's The Space Between miniseries. The comic was written by David Tischman with art by Casey Maloney, and was initially released in March 2007, with a reprint in the omnibus of the series in September of the same year. The story, set in 2370, features the USS Enterprise-D under attack from a mysterious hybrid drone ship, made from combination of Federation, Romulan and Borg technology.
Worf enters the corridors of the Enterprise-D, greets a passing ensign and is thrown to the floor by a booming jolt to the ship. As the red alert klaxons wail Worf dashes to Deanna Troi's quarters, ignoring hails summoning him to the bridge, he finds the counselor sprawled on floor, a wound to the head, he calls for medical assistance.
Meanwhile in engineering, Geordi La Forge informs the Captain warp engines are offline, with a minimum of six hours repair time. On the bridge Data announces sensors are back on-line, activating the viewscreen to display an unusual configured vessel firing on the Enterprise. Jean-Luc Picard orders the ensign at tactical to fire.
<...more>
---
Latest Releases
Days after the assassination of Federation President Nan Bacco on Deep Space 9, the unexpected appearance of a stranger on the station raises serious concerns. He seems dazed and confused, providing—in a peculiar patois of the Bajoran language—unsatisfactory answers. He offers his identity as Altek, of which there is no apparent record, and he claims not to know where he is or how he got there. A quick scan confirms the visitor is armed with a projectile weapon — a firearm more antiquated than, but similar to, the one that took President Bacco's life.
But the Bajoran liaison to the station believes that Altek has been sent from the Prophets, out of a nearby wormhole. The last time such an event occurred, it was to reassure Benjamin Sisko of his place as the Emissary. For what purpose has Altek now been sent out of the Celestial Temple?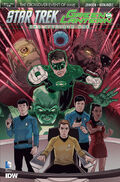 By Mike Johnson and Angel Hernandez

Two iconic franchises collide for the blockbuster crossover event of 2015! The crew of the U.S.S. Enterprise meets the Green Lantern Corps for the first time in an all-new adventure that spans the cosmos! Don't miss the thrilling first chapter of THE SPECTRUM WAR, as Kirk and Spock make a most unusual discovery on a lost world… igniting events that will change the fate of empires!
---