Home
Talk

111
43,637pages on
this wiki
Featured Article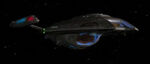 The Nova-class was a type of Federation science vessel and scout starship in service in the 24th century, first entering service in 2368. The class was designed for short-range and limited duration research missions such as planetary or system surveys. Nova-class vessels were also tasked with doing the extensive and in-depth research and analysis on a chosen region after a larger explorer type ship had made the initial analysis.
The name "Nova-class" was coined for a new Starfleet design in the 2360s. At the time of its inception, it was being modeled as the next evolution of the explorer design dynamic of the Galaxy-class. At least four designs were conceptualized for the new class; with a variety of innovative new arrangements, propulsion systems and modular designs proposed. One radical design featured a nacelles-forward central hull that would trail mission modules behind it. Another design maintained a more typical Starfleet arrangement, but distorted to make use of anticipated advances in warp technology to allow greater z-axis warp field compression. A third design also maintained a recognizable silhouette, but proposed variable geometry warp nacelles and a primary hull that was composed of interchangeable modules. The fourth design had entered service by 2370, as evidenced by the USS Aquitaine; like the Nova-class, of another design which had gone into production by 2368, this design featured an angular, almost triangular, primary hull, and was used a small explorer and research vessel.
<...more>
---
Latest Releases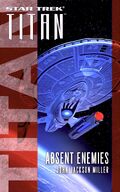 Newly promoted Admiral William Riker and the crew of the USS Titan are ordered to race to Garadius IV–a planet Riker knows all too well from an unsuccessful peace mission when he was still first officer of the USS Enterprise. But this time, he finds a mysterious new situation: one with the potential to imperil the entire Federation. One of the warring parties has simply vanished...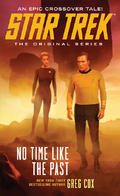 By Greg Cox

Stardate 6422.5: A diplomatic mission to the planet Yusub erupts in violence when ruthless Orion raiders attempt to disrupt the crucial negotiations by force. Caught in the midst of tense and dangerous situation, Captain James T. Kirk of the USS Enterprise finds an unexpected ally in the form of an enigmatic stranger who calls herself "Annika Seven."
Stardate 53786.1: Seven of Nine is taking part in an archaeological expedition on an obscure planetoid in the Delta Quadrant when a disastrous turn of events puts Voyager's away team in jeopardy–and transports Seven across time and space to Yusub, where she comes face to face with one of Starfleet's greatest legends.
Stardate 6422.5: Kirk knows better than most the danger that even a single castaway from the future can pose to the timeline, so he and Seven embark on a hazardous quest to return her to her own era. But there are others who crave the knowledge Seven possesses, and they will stop at nothing to obtain it–even if this means seizing control of the Enterprise!
---