Featured Article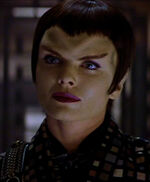 Donatra (born 2327) was a female Romulan in the 24th century who served in the Imperial Fleet of the Romulan Star Empire. By 2379 she had ascended to Commander of the Third Fleet, and was captain of the IRW Valdore. In the wake of Shinzon's coup of the Empire Donatra rose in political prominence, and in 2380 declared herself the first Empress of the newly splintered Imperial Romulan State, which she ruled for five years until eventually reuniting with the Romulan Star Empire.
By 2367 Donatra was serving as Centurion and transferred to the IRW T'sarok, under command of Suran. He counselled the eager young officer that she should slow down, for that would be no shortage of enemies for her to destroy. Donatra rose to be Suran's first officer, and while in that position first encountered Admiral Braeg on a mission in the D'nossos system. Suran was leading a task force against the Tellati, and during in the battle they came across a warbird whose command staff had been killed; Donatra and two of her subordinates beamed aboard and brought the warbird back into the battle. Braeg immediately offered her command of one of his warbirds, but Donatra turned him down, too loyal to Suran to transfer.
<...more>
---
Latest Releases
Days after the assassination of Federation President Nan Bacco on Deep Space 9, the unexpected appearance of a stranger on the station raises serious concerns. He seems dazed and confused, providing—in a peculiar patois of the Bajoran language—unsatisfactory answers. He offers his identity as Altek, of which there is no apparent record, and he claims not to know where he is or how he got there. A quick scan confirms the visitor is armed with a projectile weapon — a firearm more antiquated than, but similar to, the one that took President Bacco's life.
But the Bajoran liaison to the station believes that Altek has been sent from the Prophets, out of a nearby wormhole. The last time such an event occurred, it was to reassure Benjamin Sisko of his place as the Emissary. For what purpose has Altek now been sent out of the Celestial Temple?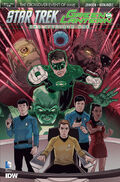 By Mike Johnson and Angel Hernandez

Two iconic franchises collide for the blockbuster crossover event of 2015! The crew of the U.S.S. Enterprise meets the Green Lantern Corps for the first time in an all-new adventure that spans the cosmos! Don't miss the thrilling first chapter of THE SPECTRUM WAR, as Kirk and Spock make a most unusual discovery on a lost world… igniting events that will change the fate of empires!
---