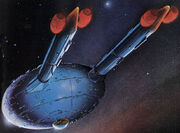 The Mann-class was a Federation cruiser type operational in the 23rd century. The Klingon designation for the class was Hokot. (TOS reference: Spaceflight Chronology, TOS novel: The Final Reflection)
In 2293, a mural painting of a Mann-class starship was hung on the wall of Starfleet Headquarters. (TOS comic: "The Ashes of Eden")
In 2385, another painting of a Mann-class starship was hung on the wall of the office of newly-promoted rear admiral William T. Riker at Starfleet Headquarters. (TTN novel: The Poisoned Chalice)
Known Ships
Edit
Service Life
Edit
The timeline of the Spaceflight Chronology lists the Mann class' time in service as being from 2154 SFC to 2192 SFC. The best approximation to the canon timeline would put the date range from circa 2209 to circa 2250.
External Links
Edit
Titan Fleet Yards has a redrawing of the Mann class (and Marshall and other classes) with more standard Starfleet coloration and markings. (Ships on the page are listed alphabetically; scroll down for "M".)
Vintage Starships contains an entry on the Mann-class, including a rough 3-D model based on its SFC illustration. (Additional details and stats on the site are fan-created, and so are not suitable for inclusion here.)
Ad blocker interference detected!
Wikia is a free-to-use site that makes money from advertising. We have a modified experience for viewers using ad blockers

Wikia is not accessible if you've made further modifications. Remove the custom ad blocker rule(s) and the page will load as expected.