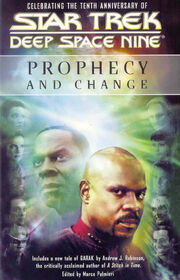 Marco Palmieri is a former editor at Pocket Books, responsible for a number of Star Trek publications, including the post-finale Star Trek: Deep Space Nine novels, as well as Star Trek: Titan and Star Trek: Vanguard. Palmieri also edited five short story anthologies. In December 2008, Palmieri was one of 35 staff members laid off from Simon & Schuster. Despite this, Palmieri has continued his involvement with Star Trek, including writing articles for the Star Trek Magazine.
Bibliography
Edit
As editor
Edit
As writer
Edit
External link
Edit
Ad blocker interference detected!
Wikia is a free-to-use site that makes money from advertising. We have a modified experience for viewers using ad blockers

Wikia is not accessible if you've made further modifications. Remove the custom ad blocker rule(s) and the page will load as expected.