Marlena Moreau (mirror)
Talk

0
41,968pages on
this wiki
For the primary universe counterpart, see Marlena Moreau.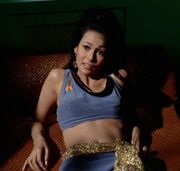 In the mirror universe, Marlena Moreau was a Terran Imperial Starfleet officer who subsequently became the Empress Consort of the Terran Empire in 2277.
She had several elder siblings. Her father François Moreau regularly beat her as a child, particularly after he had been drinking.
In 2266, she was on the ISS Enterprise, and was the captain's woman of James T. Kirk. After Spock assassinated the captain in 2267, Marlena became his wife and was with him throughout his career as he rose to Admiral and later Emperor of the Terran Empire, she supported his movement to disarm the Empire and transform it into the Terran Republic. (TOS - Mirror Universe novel: The Sorrows of Empire)
In the late 23rd century, while reported officially as being on Luna, Moreau secretly attended a Vulcan conference with her husband. The purpose of the conference was to organize Vulcans into a silent resistance, following the anticipated downfall of the Terran Republic. (VOY - Mirror Universe novel: The Mirror-Scaled Serpent)
In 2295, Marlena stood by her husband in the Forum of the Terran Republic when the forces of the Klingon-Cardassian Alliance invaded Earth and executed her and Spock. (TOS - Mirror Universe novel: The Sorrows of Empire)
Alternate continuities
Edit
By most accounts she underwent a change of loyalties after the return of her captain's counterpart to the Federation (TOS novel: Dark Mirror), and in The Mirror Universe Saga she served in David Marcus's underground. It may have been she who convinced the Drs. Marcus to question the Empire, because in that timeline Spock did not come around to that way of thinking until much later.
However, the Mirror Universe Trilogy had her pretty much suffer the same fate as Spock did in Dark Mirror...that is to say that Tiberius had her hanged outside Starfleet Command Headquarters in 2267.
External links
Edit