Featured Articles are what we, the members, consider to be the best articles that have been contributed to the wiki, and are comprehensive and well-written. If you find an article that you think reaches a high standard, please nominate it!
Every month, a new Featured Article will be selected from the list below to be placed on the Main Page as a spot-light of our best work. Once an article has been on the nomination page for seven days without any objections, or the objections have been addressed, then the article is added below.
Embolded links means that the article has previously been a featured article on Memory Beta.
Current Featured Article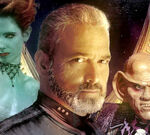 Commander Elias A. Vaughn was a Starfleet officer who in the 2370s was over one-hundred years old and an officer with eighty years experience in Starfleet Intelligence, Special Operations and Tactical.
Despite his relativity low rank (retained in order to maintain a low profile), Vaughn was on a first name basis with most of the Admiralty and had a higher security clearance than some.
Vaughn was a critical player in several crucial events in Starfleet history. Among them, the Tomed Incident, the Betreka Nebula Incident, the disaster at Arvada III, the civil war on Beta VI, and the liberation of Betazed from the Dominion.
Then, after a chance encounter with the Bajoran Orb of Memory, Vaughn decided to pursue his lost dream of being an explorer. After taking the vacant First Officers position at Federation starbase Deep Space 9 at age 101, Elias Vaughn commanded the USS Defiant on a three-month mission of exploration in the Gamma Quadrant and continued to contribute to Starfleet.
<...more>
Featured articles by subject
Edit
Real-world
Edit
Video games
Edit
In-universe
Edit
Characters
Edit
Starships and vehicles
Edit
Locations
Edit
Races and cultures
Edit
States and organizations
Edit
Miscellaneous
Edit
Ad blocker interference detected!
Wikia is a free-to-use site that makes money from advertising. We have a modified experience for viewers using ad blockers

Wikia is not accessible if you've made further modifications. Remove the custom ad blocker rule(s) and the page will load as expected.