Featured Articles are what we, the members, consider to be the best articles that have been contributed to the wiki, and are comprehensive and well-written. If you find an article that you think reaches a high standard, please nominate it!
Every month, a new Featured Article will be selected from the list below to be placed on the Main Page as a spot-light of our best work. Once an article has been on the nomination page for seven days without any objections, or the objections have been addressed, then the article is added below.
Embolded links means that the article has previously been a featured article on Memory Beta.
Current Featured Article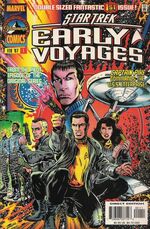 "Flesh of My Flesh": From the pilot episode of The Original Series... Captain Pike commands the U.S.S. Enterprise!
The USS Enterprise has been diverted from its course to the Marrat system to investigate several strange disappearances, a number of small ships have been found, a fleet of Marie Celestes, adrift and undamaged but entire devoid of crew. The Enterprise has been sent to act as bait to find out what happened. The culprit soon makes itself known, a huge organic starship. As the Enterprise attempts to hail a huge energy build-up blinds the crews…

In the void of his mind Captain Pike finds himself walking with Captain April in spacedock alongside the Enterprise. As Pike prepares to board he discusses his crew, some old hands from April's time on the Enterprise, Pike's yeoman of the last three years, and some new faces...
<...more>
Featured articles by subject
Edit
Real-world
Edit
Video games
Edit
In-universe
Edit
Characters
Edit
Starships and vehicles
Edit
Locations
Edit
Races and cultures
Edit
States and organizations
Edit
Miscellaneous
Edit
Ad blocker interference detected!
Wikia is a free-to-use site that makes money from advertising. We have a modified experience for viewers using ad blockers

Wikia is not accessible if you've made further modifications. Remove the custom ad blocker rule(s) and the page will load as expected.