Memory Gamma was one of a series of outpost facilities that collectively house the Federation's extensive library facilities, somewhere in the space of the galaxy's Alpha or Beta Quadrants.
History and specifics
Edit
Memory Gamma was created specifically for the study and catalogue of data regarding the economy and agriculture of the Federation and the galaxy.
Memory Gamma was part of a dedicated and complex computer network that was controlled from the Memory Prime facility. (TOS novel: Memory Prime)
This outpost was in the general vicinity of Memory Delta. (TNG episodes: "Yesterday's Enterprise", "The Wounded", TNG reference: The Continuing Mission)
In the 2360s decade, this location was noted on a star chart showing deployment of Federation and Cardassian Union ships displayed in Captain Benjamin Maxwell's ready room aboard the starship USS Phoenix. (TNG episode: "The Wounded")
Alternate realities
Edit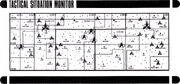 On a 24th century viewscreen display of a tactical situation monitor in an alternate timeline where the Klingon Empire was at war with the United Federation of Planets in the year 2366, Memory Gamma was listed on a star chart showing Klingon allied forces in relation to Federation positions. (TNG episode: "Yesterday's Enterprise", TNG reference: The Continuing Mission)
Appendices
Edit
Background
Edit
In canon, Memory Gamma was only listed on the "Yesterday's Enterprise" alternate timeline tactical situation monitor showing progress of the Klingon war with the Federation, and a later re-use of this chart in "The Wounded".
References
Edit
Connections
Edit
External link
Edit
Ad blocker interference detected!
Wikia is a free-to-use site that makes money from advertising. We have a modified experience for viewers using ad blockers

Wikia is not accessible if you've made further modifications. Remove the custom ad blocker rule(s) and the page will load as expected.