Ad blocker interference detected!
Wikia is a free-to-use site that makes money from advertising. We have a modified experience for viewers using ad blockers

Wikia is not accessible if you've made further modifications. Remove the custom ad blocker rule(s) and the page will load as expected.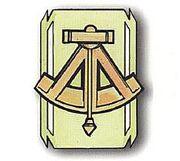 The Federation Merchant Marine (sometimes referred to as the Starfleet Merchant Marine) is a service organization of the United Federation of Planets charged with the duty of moving cargo and goods vital to the survival and expansion of the Federation. The Merchant Marine is distinct from the Federation Starfleet, but works with Starfleet as a complementary organization with definite associations and personnel answering to both services. (Last Unicorn RPG module: The Price of Freedom)
Captain R.M. Merik, after failing to complete the required courses at Starfleet Academy, became an officer in the Merchant Marine. He was commander of the SS Beagle. (TOS episode: "Bread and Circuses")

This article is a stub relating to a group or organization. You can help our database by expanding on it.
Connections
Edit