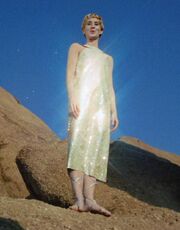 The Metrons are a highly advanced, long-lived civilization.
The Federation's first contact with the Metrons was made in 2267 by Captain James T. Kirk of the USS Enterprise. Kirk had ordered his ship to pursue a Gorn vessel that had destroyed the colony and outpost on Cestus III. The Metrons forced Kirk and the Gorn captain to fight to the death to decide the outcome of the battle. When Kirk won the fight, but chose to spare his opponent's life, the Metrons returned both captains to their ships and transported both vessels away from their space. (TOS episode: "Arena")
By 2373, the Metron species was dying out. They lured Captain Benjamin Sisko of the USS Defiant to their space with a false distress call so he could help preserve their knowledge for future generations. (DS9 - Strange New Worlds I short story: "Where I Fell Before My Enemy")
Two years later, in 2375, then-Governor Nanietta Bacco of Cestus III negotiated a historic peace treaty between the Federation and the Metrons following an attack on the world by the Gorn Hegemony. (TNG novel: A Time for War, A Time for Peace)
External link
Edit
Ad blocker interference detected!
Wikia is a free-to-use site that makes money from advertising. We have a modified experience for viewers using ad blockers

Wikia is not accessible if you've made further modifications. Remove the custom ad blocker rule(s) and the page will load as expected.