You may be looking for his ancestor of same name.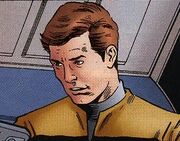 Meyer (or Meyers) was a male Human Starfleet officer in the 24th century.
In 2371, he was was aboard the USS Defiant acting in a command capacity during a trip to Cardassian space with Benjamin Sisko. (DS9 comic: "Sole Asylum")
By 2380, he was a security officer on board the USS Enterprise-E. He and security officer Boyajian made the mistake of attempting to subdue Worf. (TNG novel: Before Dishonor)
Appearances
Edit
Ad blocker interference detected!
Wikia is a free-to-use site that makes money from advertising. We have a modified experience for viewers using ad blockers

Wikia is not accessible if you've made further modifications. Remove the custom ad blocker rule(s) and the page will load as expected.