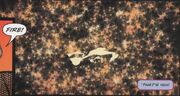 You may be looking for the eBook Miasma.
Miasma was a form of plasma weapon utilised by the Romulan Star Navy in the 23rd century. It was a wide dispersal variant of the plasma weapon used in 2266 by the ChR Gal Gath'thong against the USS Enterprise.
At the turn of the 2270s decade, the miasma weapon had been mounted aboard D7-class warbirds. Three warbirds employed it against the USS Yorktown but the Federation starship was just out of range and escaped undamaged. (TOS comic: "Schism, Issue 2")
Ad blocker interference detected!
Wikia is a free-to-use site that makes money from advertising. We have a modified experience for viewers using ad blockers

Wikia is not accessible if you've made further modifications. Remove the custom ad blocker rule(s) and the page will load as expected.