An omnibus of adaptions of the first six Star Trek: The Original Series movies.
Publisher's description
Edit
From solicitations

Star Trek's many movie adaptations are collected together for the first time in this Star Trek Movie Omnibus from IDW. Included are the three-part Star Trek: The Motion Picture, the one-shots Star Trek: The Search for Spock, Star Trek IV: The Voyage Home, Star Trek: The Final Frontier, Star Trek: The Undiscovered Country, and finally the newly created, three-part Star Trek: The Wrath of Khan from IDW.
Chronology
Edit
Chronological Order
Previous adventure:
See individual stories
Memory Beta Chronology
Next adventure:
See individual stories
Production history
Edit
Appendices
Edit
Background
Edit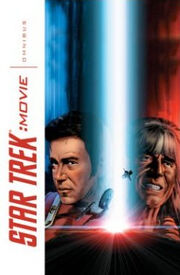 Related stories
Edit
External link
Edit
Ad blocker interference detected!
Wikia is a free-to-use site that makes money from advertising. We have a modified experience for viewers using ad blockers

Wikia is not accessible if you've made further modifications. Remove the custom ad blocker rule(s) and the page will load as expected.