The Mutara Nebula is an interstellar dust cloud located in the Mutara sector.
History and makeup
Edit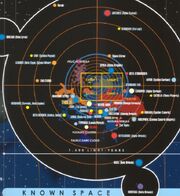 The nebula contains high levels of static discharge and comprises largely of ionized gases. The combined effect of this makes a starship's sensors highly unreliable and shields inoperable when inside.
In the year 2285, it was the site of the horrific Battle of the Mutara Nebula. The battle ended when Khan Noonien Singh detonated the experimental Genesis Device inside the nebula, causing matter within it to re-form into the Genesis Planet. (TOS movie: Star Trek II: The Wrath of Khan; WizKids module: Attack Wing)
The nebula classification, Mutara class, was named after this nebula, and its properties were used as the model for this class. (VOY episode: "One")
Appendices
Edit
Connections
Edit
External link
Edit
Ad blocker interference detected!
Wikia is a free-to-use site that makes money from advertising. We have a modified experience for viewers using ad blockers

Wikia is not accessible if you've made further modifications. Remove the custom ad blocker rule(s) and the page will load as expected.