The Narcine-class is a type of cruiser used by the Xindi-Aquatic species from the 22nd century onwards. When the Xindi Council emerged from self-imposed exile in 2410 following the Undine attacks on Earth Spacedock and Qo'noS, the ship was reclassified as a dreadnought carrier. (ENT episodes: "Damage", "Countdown", "Zero Hour"; ST video game: Star Trek Online)
In 2154 a Narcine-class starship allied with the United Earth Starfleet and Andorian Imperial Guard to stop the Xindi superweapon after it was commandeered by the Xindi-Reptilians, and carried the Enterprise NX-01 into the fray. It was disabled by interference from a nearby sphere. Another carried the Enterprise back to Earth after the superweapon was eliminated. (ENT episodes: "Countdown", "Zero Hour")
The Xindi largely went into self-imposed exile in the Delphic Expanse for over two centuries, but following a massive uptick in Undine activity in late 2409 and early 2410 they emerged and joined the war effort, sending Narcine- and Contortrix-class ships into the battle against the Undine and the Iconians manipulating interstellar events from the shadows. (STO website: Dev Blogs)
Technical data
Edit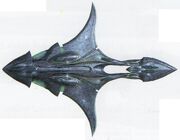 The
Narcine
-class was in the
kilometer
-plus size range, five times the size of a
United Earth
NX-class
starship
. (
ENT
episode
: "
Countdown
" [script notation])
It featured a large hangar bay in the primary section that could carry other ships within. In the early 25th century its complement included a quartet of Mobulai-class frigates. (ENT episodes: "Damage", "Countdown"; ST video game: Star Trek Online)
The overall structure of the Narcine-class remained essentially unchanged from the 22nd century to the 25th century but the class went through a number of refit cycles to keep it competitive with current designs. By 2410 the ship was armed with a cascade resonance catalyst device in addition to its conventional weapons, which was able to damage enemy vessels and weaken their defenses for further attacks. (STO website: Dev Blogs)
Interior design
Edit
Narcine-ships had at least one small room where oxygen-breathing humanoids could come aboard and communicate with the Aquatic crew. A round window was located between this room and the Aquatics' domain. (ENT episodes: "Damage", "Countdown")
Appendices
Edit
Connections
Edit
External links
Edit
Ad blocker interference detected!
Wikia is a free-to-use site that makes money from advertising. We have a modified experience for viewers using ad blockers

Wikia is not accessible if you've made further modifications. Remove the custom ad blocker rule(s) and the page will load as expected.