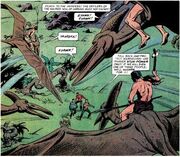 Neesan pterodactyls were large pterosaurs from the planet Neesan. Some of the pterodactyls were at least partially domesticated and were ridden by Neesan humanoid natives.
In the year 2266, a landing party to Neesan from the USS Enterprise, consisting of Captain James T. Kirk, Commander Montgomery Scott and Doctor Leonard McCoy, were attacked by pterodactyls and their riders. (TOS comic: "The Cosmic Cavemen")
Ad blocker interference detected!
Wikia is a free-to-use site that makes money from advertising. We have a modified experience for viewers using ad blockers

Wikia is not accessible if you've made further modifications. Remove the custom ad blocker rule(s) and the page will load as expected.