Negh'Var class
Talk

0
43,914pages on
this wiki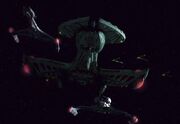 The Negh'Var class battleships were large Klingon warships used in the 24th century.
The Negh'Var class was a powerful new form of warship developed by the Klingon Empire in secret, with very few even among the Klingon High Council knowing of the project's existence. It was a significant departure from "traditional" Klingon designs which favored swift, agile vessels, instead offering heavy firepower and pure brute strength.
Negh'Var class ships were larger than Starfleet's Galaxy-class ships, and were capable of carrying a security detail of 2,700 personnel. They were armed with disruptors, heavy disruptors and photon torpedoes. (video games: Armada, Armada II)
Kurak, daughter of Haleka was the main designer of the prototype IKS Negh'Var. (TNG novel: Diplomatic Implausibility)
It is unknown if all ships of this class had cloaking devices, as none other than Martok's flagship were capable of engaging cloaking. However, in a future timeline where the Klingon Empire conquers the Romulan Star Empire, a ship resembling the Negh'Var was capable of cloaking to escape battle. (video games: Armada, Armada II)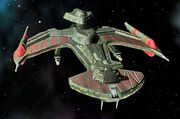 The prototype Negh'Var was launched in 2372 and became the flagship for the Chancellor during the Klingon-Cardassian War. (DS9 episode: "The Way of the Warrior")
Ships of this class
Edit
See also unnamed Negh'Var class starships.
Connections
Edit
External Links
Edit