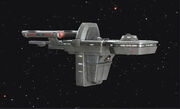 A Nerst generator was a technological component of the Federation starship USS Antares's drive systems. The generator was shielded by a series of baffle plates.
History and specifics
Edit
When Captain Ramart of the Antares tried to contact Captain James T. Kirk of the USS Enterprise and warn him of Charles Evans, Evans used his psionic powers to remove a warped baffle plate from the generator which subsequently destroyed the Antares. (TOS - Star Trek 1 novelization: Charlie's Law)
The name appears to be a misspelling of Nernst generator, which appeared in several of James Blish's other works.
Ad blocker interference detected!
Wikia is a free-to-use site that makes money from advertising. We have a modified experience for viewers using ad blockers

Wikia is not accessible if you've made further modifications. Remove the custom ad blocker rule(s) and the page will load as expected.