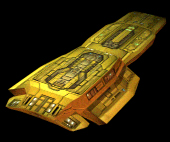 The Neterok class warship was an offensive battleship employed by the Cardassian Union. These ships carried heavy weaponry which it directed at enemy starships as well as starbase installations. A strong reinforced hull allowed the ship to survive enemy retaliation.
A later Type II model would be produced with more up-to-date technologies.
(TNG game: Birth of the Federation)
Ad blocker interference detected!
Wikia is a free-to-use site that makes money from advertising. We have a modified experience for viewers using ad blockers

Wikia is not accessible if you've made further modifications. Remove the custom ad blocker rule(s) and the page will load as expected.