For other uses, see New Athens.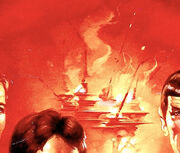 New Athens was a settlement on Centaurus.
At some point prior to 2286, New Athens was devastated by a matter-antimatter explosion. The Klingon Empire used this incident to insert spies, using the identities of the dead, into the Federation. (TOS novel: Timetrap)
Appendices
Edit
Connections
Edit
References
Edit
Ad blocker interference detected!
Wikia is a free-to-use site that makes money from advertising. We have a modified experience for viewers using ad blockers

Wikia is not accessible if you've made further modifications. Remove the custom ad blocker rule(s) and the page will load as expected.