For other uses, see O'Neill.
This page details O'Neil in the primary universe; see O'Neill (alternate reality) for the counterpart in the alternate reality created by Nero's temporal incursion.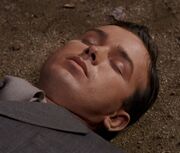 O'Neil was a Human male who served in Starfleet in the 23rd century. By the 2260s, O'Neil had earned the rank of lieutenant and was stationed aboard the USS Enterprise, under the command of Captain James T. Kirk.
In 2267, O'Neil accompanied Hikaru Sulu's landing party to the surface of Beta III to investigate the disappearance of the USS Archon a century earlier. Soon after beaming down, the party found themselves being pursued by the lawgivers, who enforced the will of Landru.
Although, the rest of the landing party were beamed back to the ship, O'Neil fled and he was eventually caught and "absorbed" by the lawgivers. Thankfully, O'Neil was eventually returned to normal when a second landing party, led by Captain James T. Kirk, was able to destroy Landru. (TOS episode: "The Return of the Archons")
The novelization of this episode spells O'Neil's name as O'Neill.
In 2268, O'Neil served as the transporter officer on duty when the landing party beamed over to the USS Defiant. During the subsequent attack by the Tholians, O'Neil attempted to repair the transporter, but needed Montgomery Scott's assistance. (TOS episode: "The Tholian Web")
External link
Edit