Ad blocker interference detected!
Wikia is a free-to-use site that makes money from advertising. We have a modified experience for viewers using ad blockers

Wikia is not accessible if you've made further modifications. Remove the custom ad blocker rule(s) and the page will load as expected.
The Olaen class was a Xindi-Insectoid heavy escort carrier in service since at least the 22nd century. In the 2150s, ships of this class served as warships. By the early 25th century, Olaen-class starships had been upgraded to serve as carriers. (ENT episode: "Hatchery", STO video game: The Iconian War))
In early 2154, the United Earth Starfleet starship Enterprise NX-01 discovered a crashed Insectoid warship on an uninhabited planet in the Delphic Expanse. The Starfleet crew studied the wreck's the technology and retrieved a shuttlecraft (ENT episode: "Hatchery")
When remainder of the Xindi Council decided to end their isolationist stance within the Federation in June 2410, Insectoid heavy escort carriers were shared not only with Federation Starfleet but also with the Klingon Defense Force and the Romulan Republican Force through Lobi Crystal Consortium intermediaries. (STO video game: The Iconian War)
Technical data
Edit
22nd century
Edit
In the 2150s, Olaen-class warships were armed with particle beam weapons and torpedoes. They were more heavily armed than Xindi-Arboreal and Xindi-Primate ships but were outgunned by the Xindi-Aquatics.
The warships were 150 meters in length and equipped with impulse engines and a subspace vortex drive. (ST reference: The Official Starships Collection #24) The subspace vortex drives no longer worked after the dissolution of the Delphic Expanse. (ENT - Rise of the Federation novel: Uncertain Logic)
These ships had no designated bridge. Primary systems were distributed throughout the ship. Specialized sections included a communications room, armory and hatchery. The hatchery was the best protected part of the ship. The atmosphere was an oxygen-nitrogen mix breathable to most humanoids, although the air was warmer and more humid than what Humans found comfortable. (ENT episode: "Hatchery"; ST reference: The Official Starships Collection #24)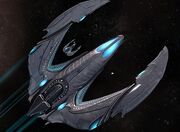 25th century
Edit
In June 2410, the entirety of the Xindi Council made their ships available to Starfleet, the Klingon Defense Force and the Romulan Republican Force. Olaen-class carriers were once again capable of opening subspace vortices but could not bridge light-years of distance. Ships of the class saw action in the Iconian War. (STO video game: The Iconian War)
Appendices
Edit
Connections
Edit
External link
Edit