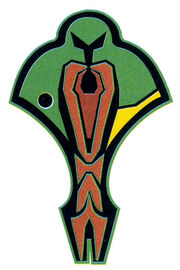 Olmerak Prime was a Cardassian planet in the Olmerak star system.
In 2377 in the mirror universe, General Miles O'Brien formulated a plan to attack the shipyards at Olmerak Prime during the time when an ion storm was expected to disrupt Cardassian sensors and defenses. Memory Omega knew that the Cardassians were using Olmerak Prime as a muster point for an attack on Terok Nor and indirectly informed the Terran Rebellion, who abandoned their plan to attack. (ST - Mirror Universe novel: Rise Like Lions)
Connections
Edit
Ad blocker interference detected!
Wikia is a free-to-use site that makes money from advertising. We have a modified experience for viewers using ad blockers

Wikia is not accessible if you've made further modifications. Remove the custom ad blocker rule(s) and the page will load as expected.