For other uses, see Cheron.
Omicron Gruis (also known as Cheron) was an F4V class yellow-white star located in the space of the Federation-Romulan Neutral Zone in the 24th century. 104 light years distant from Sol, Cheron is visible from Earth in the Grus constellation. (ST reference: Star Charts; Last Unicorn RPG module: The Way of D'era: The Romulan Star Empire)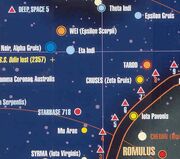 Star Charts depicts this system as being near the heart of Romulan space, while the Last Unicorn Games RPG shows it within the confines of the Neutral Zone. Since Star Charts was based on three-dimensional maps projected on two-dimensional depictions, the position within the Empire is not treated as definitive by this article.
Connections
Edit
External link
Edit
Ad blocker interference detected!
Wikia is a free-to-use site that makes money from advertising. We have a modified experience for viewers using ad blockers

Wikia is not accessible if you've made further modifications. Remove the custom ad blocker rule(s) and the page will load as expected.