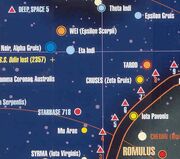 Outpost 5 was one of a series of Earth Outpost Stations located in Sector Z-6 along the Romulan Neutral Zone. Like the other outposts, Outpost 5 was constructed on an asteroid, a mile-deep underground. Outpost 5 also acted as the subspace communications relay station for the outposts.
In 2264, Outpost 5 was seriously damaged after an ion storm passed through the region. As a result, the outposts primary PXK fission reactor was disabled and communications with Starbase 10 was lost as a result. This, along with the worry that the Romulans could use this as an opportunity to cross the Neutral Zone, led Starfleet to assign the USS Lovell to quickly repair the outpost. (SCE novel: Foundations, Book One) Commodore Diego Reyes later complimented the Lovell team on their work at Outpost 5. (SCE eBook: Distant Early Warning)
Connections
Edit
Ad blocker interference detected!
Wikia is a free-to-use site that makes money from advertising. We have a modified experience for viewers using ad blockers

Wikia is not accessible if you've made further modifications. Remove the custom ad blocker rule(s) and the page will load as expected.