Ad blocker interference detected!
Wikia is a free-to-use site that makes money from advertising. We have a modified experience for viewers using ad blockers

Wikia is not accessible if you've made further modifications. Remove the custom ad blocker rule(s) and the page will load as expected.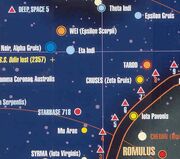 Outpost 5 was one of a series of Earth Outpost Stations located in Sector Z-6 along the Romulan Neutral Zone. Like the other outposts, Outpost 5 was constructed on an asteroid, a mile-deep underground. Outpost 5 also acted as the subspace communications relay station for the outposts.
In 2264, Outpost 5 was seriously damaged after an ion storm passed through the region. As a result, the outposts primary PXK fission reactor was disabled and communications with Starbase 10 was lost as a result. Worried that the Romulans could use this as an opportunity to cross the Neutral Zone, led Starfleet to assigned the USS Lovell to quickly repair the outpost. (SCE novel: Foundations, Book One) Commodore Diego Reyes later complimented the Lovell team on their work at Outpost 5. (SCE eBook: Distant Early Warning)
Connections
Edit