Ad blocker interference detected!
Wikia is a free-to-use site that makes money from advertising. We have a modified experience for viewers using ad blockers

Wikia is not accessible if you've made further modifications. Remove the custom ad blocker rule(s) and the page will load as expected.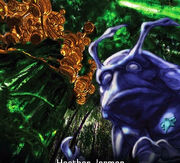 P8 Blue (aka "Pattie") was a Nasat in the 24th century.
Blue was one of the rare Nasat to leave their home world, and to join Starfleet. (SCE eBook: Balance of Nature) She signed up as a noncommisioned crewperson with the Starfleet Corps of Engineers, as a structual engineering specialist.
In mid-2375, Blue was part of a team assigned to salvage a Jem'Hadar vessel discovered crashed on planet Chin'toka. Immediately afterwards, Blue was assigned to the S.C.E. ship USS da Vinci. (SCE eBook: War Stories, Book 2)
At one point during her time on da Vinci, Blue, Jil Barnak, Diego Feliciano, Frnats and Orthak took leave on Starbase 96, and were confronted by a person who had a problem with a group of five people from five different species sitting together. This individual ended up getting five different drinks spilled on his head. (SCE eBook: Breakdowns)
Blue continued to serve aboard the da Vinci until at least 2380. (ST novel: Articles of the Federation)