Ad blocker interference detected!
Wikia is a free-to-use site that makes money from advertising. We have a modified experience for viewers using ad blockers

Wikia is not accessible if you've made further modifications. Remove the custom ad blocker rule(s) and the page will load as expected.
The Peghqu'-class was a type of Klingon starship design, a heavy destroyer class that was first built by the KDF in the early 25th century.
An Engineering team at the Empire Shipyards designed this vessel with increased maneuverability so that it could outflank larger cruisers, but also take the incredible punishment that could be dealt by enemy escorts. The only officers permitted to command these vessels were Generals, and only with the backing of the High Council.
The Peghqu' Heavy Destroyer features an experimental "Dynamic Tactical System", which allows the ship to switch between Regenerative Mode and Tactical Mode. In Tactical Mode, the vessel's rear central sections, both ventral and dorsal, telescoped out, exposing massive disruptor strips.
The Peghqu'-class was also equipped with an Advanced quantum slipstream drive and a cloaking device.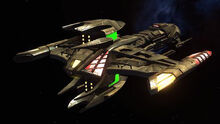 The
Peghqu'
-class is listed as a "Heavy Destroyer", and comes equipped with a special console that, when activated, causes the ship to change its external configuration and divert a power bonus from shields to weapons. (
STO
video game
:
Star Trek Online
)
Appendices
Edit
Connections
Edit
External link
Edit