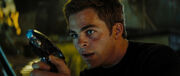 The phaser was a weapon used by the Federation Starfleet in the alternate reality that followed a temporal event in the year 2233.
The alternate 2250s decade's version of the type-2 phaser was silver, with a body reminiscent of the primary universe design, with a rotating barrel for switching between stun and kill settings. They were only seen to fire bolts rather than continuous beams. The kill setting was distinctive due to its red energy that struck and burned through enemies while the stun setting was distinctive due to its blue energy that struck enemies and knocked them unconscious. (TOS movie: Star Trek)
Appendices
Edit
Connections
Edit
Appearances
Edit
Ad blocker interference detected!
Wikia is a free-to-use site that makes money from advertising. We have a modified experience for viewers using ad blockers

Wikia is not accessible if you've made further modifications. Remove the custom ad blocker rule(s) and the page will load as expected.