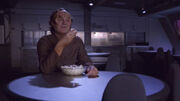 Popcorn was a snack food enjoyed by Humans. It is corn that has been heated up causing the moisture in the kernel to expand (or pop) into a softer editable commodity. Popcorn is commonly enjoyed while watching movies or sports.
Samuel Cogley included popcorn as part of the ambiance of going to a movie theater. (TOS novel: The Case of the Colonist's Corpse)
William T. Riker served popcorn when he invited Data and Worf to his quarters to watch the action-movie Missing Link 3: Vacation in Armageddon. (TNG novel: Debtors' Planet)
External links
Edit
Ad blocker interference detected!
Wikia is a free-to-use site that makes money from advertising. We have a modified experience for viewers using ad blockers

Wikia is not accessible if you've made further modifications. Remove the custom ad blocker rule(s) and the page will load as expected.