Ad blocker interference detected!
Wikia is a free-to-use site that makes money from advertising. We have a modified experience for viewers using ad blockers

Wikia is not accessible if you've made further modifications. Remove the custom ad blocker rule(s) and the page will load as expected.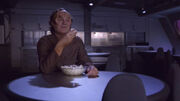 Popcorn was a snack food enjoyed by Humans. It is corn that has been heated up causing the moisture in the kernel to expand (or pop) into a softer editable commodity. Popcorn is commonly enjoyed while watching movies or sports.
Samuel Cogley included popcorn as part of the ambiance of going to a movie theater. (TOS novel: The Case of the Colonist's Corpse)
William T. Riker served popcorn when he invited Data and Worf to his quarters to watch the action-movie Missing Link 3: Vacation in Armageddon. (TNG novel: Debtors' Planet)
External links
Edit