Ad blocker interference detected!
Wikia is a free-to-use site that makes money from advertising. We have a modified experience for viewers using ad blockers

Wikia is not accessible if you've made further modifications. Remove the custom ad blocker rule(s) and the page will load as expected.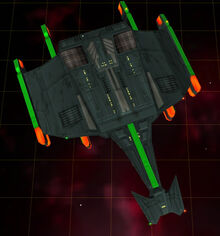 The Qeh'Ral class battleships were the second largest vessels employed within the Klingon Empire. They were older then the Negh'Var class but had a long and distinguished history within the Klingon fleet. It possessed heavy armaments in the form of disruptors and torpedo weaponry to brutally crush enemy starships, however the design suffered from this in the form of low impulse and warp speeds. (Star Trek game: Armada II)
It is possible that these ships replaced the older Sword of Kahless class battleships.
Ships commissioned
Edit
IKS Boyn'Ton • IKS De'na'llj • IKS De'vam • IKS Do'Ha'oh • IKS Do'Ha'wl • IKS DoqDaq • IKS Durl'gha • IKS Hevpu'a • IKS InSaya • IKS J'Hvad • IKS LenglaHll • IKS Mu'Qujllj • IKS Mu'vetlh • IKS Navvetlh • IKS Nobta'Gha • IKS Nuq Qum • IKS QaHjaj • IKS QaIprup • IKS Qatlh ram • IKS Qa'wl'Ho'vad • IKS Qu'Daj • IKS Sad'taj • IKS Sa'Hmo • IKS Satlhob • IKS SoQvetlh • IKS Vav'Daj