Ad blocker interference detected!
Wikia is a free-to-use site that makes money from advertising. We have a modified experience for viewers using ad blockers

Wikia is not accessible if you've made further modifications. Remove the custom ad blocker rule(s) and the page will load as expected.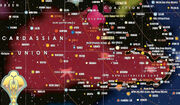 Quinor is a star with an associated star system located in the galaxy's Alpha Quadrant, in the space of the Cardassian Union, near the Badlands. Quinor is a G class star with an orbiting planetary system of several worlds, including seventh planet Quinor VII.
History and specifics
Edit
In the year 2323, Hadlo and other Oralians fled to the space beyond Quinor after a crackdown on them. (ST - Terok Nor novel: Day of the Vipers)
Prior to 2328, Gul Monor battled and defeated Orion pirates at Quinor. (ST - The Lost Era novel: The Art of the Impossible)
In 2375, the Cardassian Liberation Front had a base on Quinor VII. It was later destroyed by the Dominion. (DS9 episode: "The Dogs of War")
Quinor primary
Quinor I
Quinor II
Quinor III
Quinor IV
Quinor V
Quinor VI