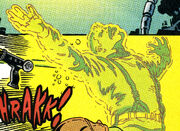 Raeger was a Human male who served in Starfleet in the mid-23rd century. In 2254 he had achieved the rank of ensign and was serving under Captain Christopher Pike on the USS Enterprise.
On stardate 2378.1 Raeger was part of a landing party to the Pharos siteworld in the Marrat Nebula, investigating the loss of contact with the engineers at Project Pharos. The Pharos site had been attacked by the IKS Varchas, and shortly after transporting down the landing party came under the attack by Klingons in the facility. Raeger was the first casualty, taking a disruptor hit to the back. (EV comic: "The Fires of Pharos")
It is unclear whether or not Raeger survived his disruptor hit.
Ad blocker interference detected!
Wikia is a free-to-use site that makes money from advertising. We have a modified experience for viewers using ad blockers

Wikia is not accessible if you've made further modifications. Remove the custom ad blocker rule(s) and the page will load as expected.