Ad blocker interference detected!
Wikia is a free-to-use site that makes money from advertising. We have a modified experience for viewers using ad blockers

Wikia is not accessible if you've made further modifications. Remove the custom ad blocker rule(s) and the page will load as expected.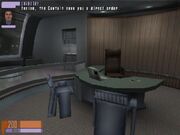 The ready room is a space provided for the commanding officer of a starship. The ready room is either adjacent to or near the ship's bridge, and provides a private space near the bridge for the Captain of a ship in addition to his or her regular quarters.
Most ready rooms consist of a desk, seating for guests, a replicator and decorations representing the Captain's interests.
Many Starfleet vessels have ready rooms, though some classes (such as the Constitution-class) do not. (ST comic: "An Infinite Jest")
Notable ready rooms
Edit
Captain Data's
Edit
Captain Data's ready room aboard the USS Enterprise-E featured decorations that included a model of a Galaxy-class starship and Data's own large painting of Spot, his beloved pet cat. (ST - Countdown comic: "Countdown, Number Two")
Jake Sisko was brought to the Enterprise's ready room for an interview with Captain Data in 2390. (ST website: The Path to 2409)
External links
Edit