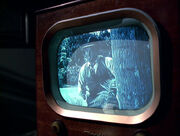 Robert Stack (January 13, 1919 - May 14, 2003) was an American actor who lived during the 20th and 21st centuries.
He was well known for his role as Eliot Ness in the television crime drama The Untouchables from 1959 to 1963. The series dramatised Ness' experiences as a Prohibition agent and his fight against crime in Chicago during the 1930s. (DS9 episode: "It's Only a Paper Moon", VOY episode: "Memorial")
External links
Edit
Ad blocker interference detected!
Wikia is a free-to-use site that makes money from advertising. We have a modified experience for viewers using ad blockers

Wikia is not accessible if you've made further modifications. Remove the custom ad blocker rule(s) and the page will load as expected.