Ad blocker interference detected!
Wikia is a free-to-use site that makes money from advertising. We have a modified experience for viewers using ad blockers

Wikia is not accessible if you've made further modifications. Remove the custom ad blocker rule(s) and the page will load as expected.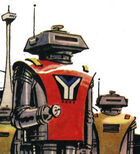 The term robot refers to a variety of artificial, often mechanical, technologies which act with a purpose. Robots range from simple programmable artificial devices to complex self-aware artificial intelligences.
Albert Macklin, a science fiction writer, was fond of robots and often wrote stories featuring them in Incredible Tales of Scientific Wonder. (DS9 episode: "Far Beyond the Stars")
In 2266 the crew of the USS Enterprise encountered a race of Robots which had been created by a humanoid species a million years earlier. (TOS comic: "UK comic strips, first story arc")
In 2294, Beta Promethean pirates cheated James T. Kirk using robots. Kirk used those same robots later to misdirect Klingons. (TOS novel: The Fearful Summons)
External links
Edit