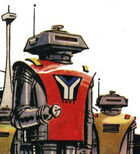 The term robot refers to a variety of artificial, often mechanical, technologies which act with a purpose. Robots range from simple programmable artificial devices to complex self-aware artificial intelligences.
Albert Macklin, a science fiction writer, was fond of robots and often wrote stories featuring them in Incredible Tales of Scientific Wonder. (DS9 episode: "Far Beyond the Stars")
In 2266 the crew of the USS Enterprise encountered a race of Robots which had been created by a humanoid species a million years earlier. (TOS comic: "UK comic strips, first story arc")
In 2294, Beta Promethean pirates cheated James T. Kirk using robots. Kirk used those same robots later to misdirect Klingons. (TOS novel: The Fearful Summons)
External links
Edit
Ad blocker interference detected!
Wikia is a free-to-use site that makes money from advertising. We have a modified experience for viewers using ad blockers

Wikia is not accessible if you've made further modifications. Remove the custom ad blocker rule(s) and the page will load as expected.