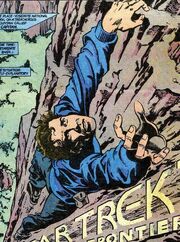 Rock climbing is an activity where an individual climbs the rock face of a mountain.
In 2287, Captain James T. Kirk attempted to scale El Capitan while taking shore leave at the Yosemite National Park. (TOS movie, novelization & comic adaptation: Star Trek V: The Final Frontier)
During the time at Starfleet Academy, Linda Addison and Sean Hawk would often go on rock climbing trips together. Addison later died during a rock climbing expedition to Vulcan's Forge on Vulcan. (TNG eBook: A Sea of Troubles)
External links
Edit
Ad blocker interference detected!
Wikia is a free-to-use site that makes money from advertising. We have a modified experience for viewers using ad blockers

Wikia is not accessible if you've made further modifications. Remove the custom ad blocker rule(s) and the page will load as expected.