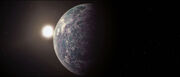 The Imperial Palace was a structure on the Romulan homeworld, the planet Romulus.
History and specifics
Edit
The Romulan Imperial Palace was a four century old building with stone walls dressed in tapestries and heavy draperies with its many chambers possessing modern fixtures.
It served as the residence for members of the Imperial Court. (TNG - Double Helix novel: Red Sector)
Appendices
Edit
Connections
Edit
References
Edit
Ad blocker interference detected!
Wikia is a free-to-use site that makes money from advertising. We have a modified experience for viewers using ad blockers

Wikia is not accessible if you've made further modifications. Remove the custom ad blocker rule(s) and the page will load as expected.