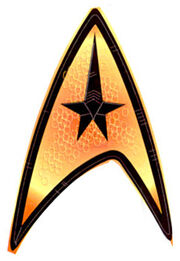 John Russ was a Human who served in the Federation Starfleet as an officer in the 23rd century.
Biography
Edit
By the 2260s decade, Russ had been promoted to the rank of lieutenant and posted aboard the starship USS Enterprise under the command of Captain James T. Kirk.
In the year 2267, Russ was part of the landing party that beamed over to the damaged USS Constellation. (TOS episode: "The Doomsday Machine")
Appendices
Edit
Connections
Edit
External links
Edit
Ad blocker interference detected!
Wikia is a free-to-use site that makes money from advertising. We have a modified experience for viewers using ad blockers

Wikia is not accessible if you've made further modifications. Remove the custom ad blocker rule(s) and the page will load as expected.