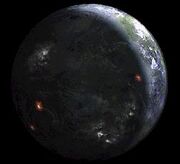 S-R III is an uninhabited planet near Bajor. It is presently located in the Cardassian Union's territory.
The USS Ulysses visited the planet in the 2360s decade after detecting what would be later be determined to be an Orb of the Pah-wraiths. The Ulysses was attacked by a Cardassian Galor-class warship and crashed on the planet.
S-R III was later ceded to the Cardassians as per the treaty of 2370. In 2374, Captain Benjamin Sisko and the crew of the USS Defiant travelled to the planet to locate the Orb. Dominion forces, including Jem'Hadar soldiers and a Vorta leader, arrived at S-R III soon after. (DS9 video game: The Fallen)
Connections
Edit
Ad blocker interference detected!
Wikia is a free-to-use site that makes money from advertising. We have a modified experience for viewers using ad blockers

Wikia is not accessible if you've made further modifications. Remove the custom ad blocker rule(s) and the page will load as expected.